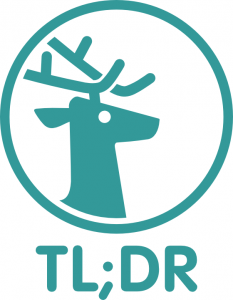 We're really pleased and proud as punch to say that Textal is now ready to download for free over at the app store.  What are you waiting for? Go over and play with it as soon as you can!
The launch is the culmination of two years of very hard work, and I would like to thank the team behind Textal, Steve, our developer extraordinaire, and Rudolf, our designer par excellence. Together we've burned the midnight oil, learning a lot about the intricacies of app development and design, whilst pulling together an innovative and useful introduction to text analysis for a mobile audience.
Over the next few months we'll be exploring here how Textal was built, how the back end works, what you can do with it, and how it is being used.  Its been a great experience so far, and now we are buckling our seatbelts as we throw it open to you to play with. We'll be keeping you up to date here, and on @textal on twitter.
And please meet Grendel, our teal deer. Too Long; Didn't Read (TL;DR)? Use Textal to summarise and explore the text for you!